Naperville, Illinois
Kayak or Paddleboard Trip
Overview
Take a river trip down Naperville's gorgeous DuPage River. Parking will be available at our check-in location, from there you will be shuttled upriver to our launch.
See the quiet corners of Naperville like you've never seen, and a range of wildlife from blue heron, jumping fish, river otters, turtles, and much more.
We offer our river trips when the river is safe for all paddlers. We have plenty of single kayaks, tandem kayaks, and large inflatable stand-up river paddleboards. Please Book Online.
Book Online Now
What to Expect
The time the trip takes varies depending on water flow and can range from one and a half to two and a half hours.
For all of our river trips we recommend that customers have prior experience kayaking or paddleboarding. If you have never been kayaking or paddleboarding before please try one of our flat water kayak rentals at Whalon Lake.
Book Online or Walk-In:
Single kayak or paddleboard – $45
Tandem kayak – $90
Customers will meet and park at our current check-in location which will be displayed on our homepage and communicated clearly with those who have reservations, where they will meet our friendly staff to register and receive instruction before being transported by up the river to put-in. The trips are approximately 4.5 miles to the take-out, where you will return to the check-in where you parked.
What's Included
All trips include kayak/paddleboard, paddle, PFD (personal floatation device). We recommend customers leave any valuables or things they don't want lost or damaged in their vehicle.
We provide water resistant (dry) bags. We recommend customers wear synthetic clothing and avoid cotton. We strongly recommend customers wear footwear that they are comfortable with getting wet and will stay securely on their feet. We also recommend sunscreen, water, and snacks.
Once kayakers and paddleborders have been properly outfitted with their equipment they will be given some brief instruction about how to have a safe and memorable experience.
Book Online Now
General Information
Single kayakers/paddleboarders must be at least age 13 to paddle on the river, tandem boat passengers must at least 8 years of age and accompanied by an adult. Anyone under the age of 18 must be accompanied by an parent or guardian who can sign a waiver on their behalf. On the river, children under 18 must have a parent or guardian on the water with them at all times.
Please dress appropriately. You WILL get wet when on the water. Shoes and life jackets must be worn at all times.
Bring plenty of water and sunscreen.
Naperville Kayak reserves the right to cancel any of our activities in the event of severe weather or abnormal weather conditions.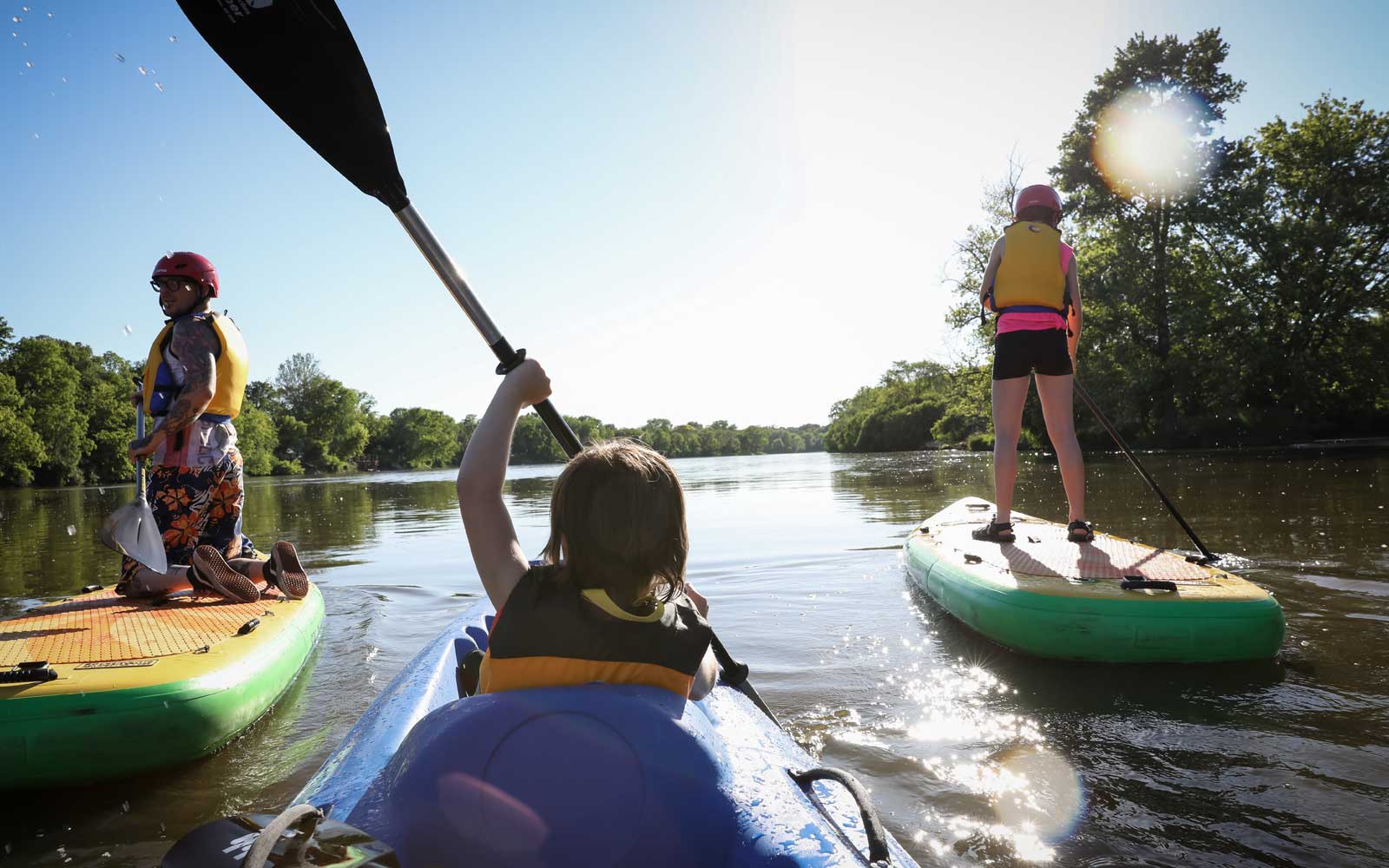 Riverview Farmstead Preserve, Naperville: