Downtown Naperville Quarry
Paddleboard Session / Class
Stand-up paddleboarding session/class
$25 for one-hour paddleboard session
We offer paddleboarding in downtown Naperville at the Riverwalk Quarry. Weekends Only 8/17/18-9/30/18 9am-10am (weather permitting). Registration begins 15 minutes prior to session.
Book Online Now
What to expect
Come learn to paddleboard or come do it again on our extremely sturdy inflatable stand-up river paddle boards constructed by Sol Paddle Boards of Telluride, Colorado. These boards offer a very beginner-friendly experience. Paddleboards are 11 foot-long by 3 ½ foot-wide, making for one of the sturdiest paddleboard experiences out there. Calm water at the enclosed 5 acre quarry offers a very gentle beginner-friendly paddleboarding experience.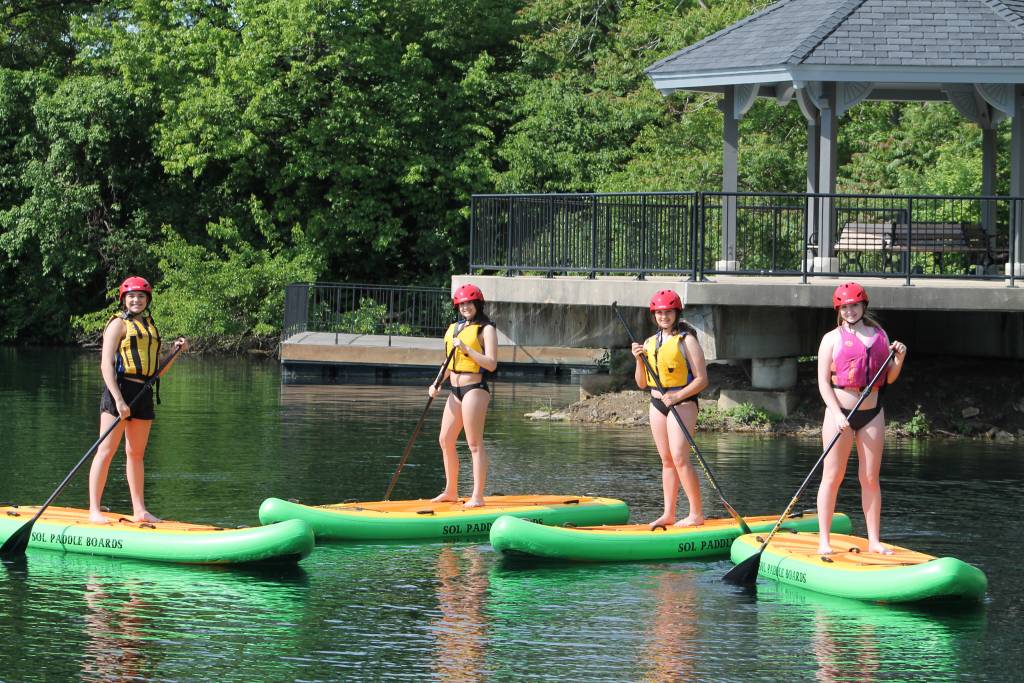 Please arrive 15 minutes prior to your session for registration. Paddleboarders will receive all necessary equipment, paddleboard, paddle, PFD (personal flotation device), and dry bag (we recommend leaving any valuables and items that you don't want wet in your vehicle). Paddleboarders will receive brief instruction and learn basic paddleboard strokes. Your instructor will be present to offer additional paddleboarding techniques and guidance for safely navigating one of our paddleboard trips down the DuPage or Fox River.*
Paddleborders can choose to participate with their instructor, or go off and enjoy their time how they please on the water. * Please note this rental/session takes place in a 5 acre quarry downtown Naperville and is not on a river. See our interactive map below.
Book Online Now
General Information
Anyone under the age of 18 must be accompanied by an parent or guardian who can sign a waiver on their behalf.

At the quarry, children 13 to 18 years may be on the water without a parent or guardian and children 12 years and under must have a parent or guardian on the water at the quarry with them at all times. Single kayakers/paddleboarders must be at least age 8 go in a single kayak or paddleboard. Children 4 years and older can be in the front of a tandem with an adult 18 years and older.
Please dress appropriately. You will get wet when on the water. Shoes and life jackets must be worn at all times.

Bring plenty of water and sunscreen.
Naperville Kayak reserves the right to cancel any class or close rentals at the quarry or on the river in the event of severe weather or abnormal weather conditions.
Remember, "there's no such thing as bad weather, just poor choice in clothing".
View Our Interactive Map: